Wroclaw - what is worth seeing in Wroclaw? Tourist attractions worth visiting
Wrocław is one of the most popular cities in Poland - and it's no wonder. Its unique atmosphere, unique architecture and monuments, atmospheric restaurants and large number of tourist attractions mean that there is no place for boredom in this city.
Every year, millions of tourists come here who are impressed by the city. It is worth starting your city tour from the Wrocław market square. You can admire beautiful, historic tenement houses, relax by the city fountain, and eat delicious ice cream, breakfast or lunch.
The Market Square is the center of Wroclaw's life, but let's not forget about other districts where - as you will see - many amazing places and tourist attractions await you. Are you asking what is worth seeing in Wrocław? In this article, we will present you places worth visiting - both for young people, families with children and seniors.
Amazing Wroclaw - Entertainment map of Wroclaw and its surroundings
In order to bring you closer to the magical city of Wrocław, we have created a special project called Amazing Wrocław. Visit www.niesamowitywroclaw.eu and discover this amazing city. There you will find suggestions for trips, events, tourist attractions, restaurants and ideas on how and where to spend an unforgettable birthday!
Wrocław - monuments worth seeing
For lovers of monuments and discovering the history of cities, we present the most important places that are real must see in Wrocław. They impress not only with their impressive appearance. It's worth getting to know their history, because it's really interesting. It is worth starting your adventure with the most famous building in Wrocław, i.e. the Cathedral of St. John the Baptist, which makes a great impression on tourists both day and night. The cathedral is also the heart of Ostrów Tumski - the oldest part of the city. What else is worth seeing in Wrocław? You will find out about it below, where we have described other places worth seeing in Wrocław.
Wrocław Market Square
Market Square in Wrocław - this is where your adventure in Wrocław should begin. The market square is over 213 meters long, which makes it the honourable third place in Poland in terms of size (just behind Krakow and Olecko). What will you see on the Wrocław market square? First of all, atmospheric rows of colourful tenement houses, as well as numerous restaurants and entertainment places. All the most important events in Wrocław are organized here, e.g. Christmas Market or St. John's Fair.
The most impressive monument on the Market Square is the Old Town Hall - it is the oldest building of this type in Poland (and also the largest). In addition to the tenement houses and the town hall, your attention will certainly be drawn to the "Zdrój" fountain, which was built in 2010 (especially in the summer, it attracts many tourists looking for refreshment), the monument to Aleksander Fredro and the historic pillory. For lovers of lookout towers, we recommend visiting the tower of the Gothic Basilica of St. Elizabeth. It offers a beautiful view of the Wrocław market square and the surrounding area.
You will also meet dwarfs on the Wrocław market square. Yes, you see right - these little creatures have taken over not only the Wrocław market square, but also the rest of the city! We have prepared a special section for you below.
Ostrów Tumski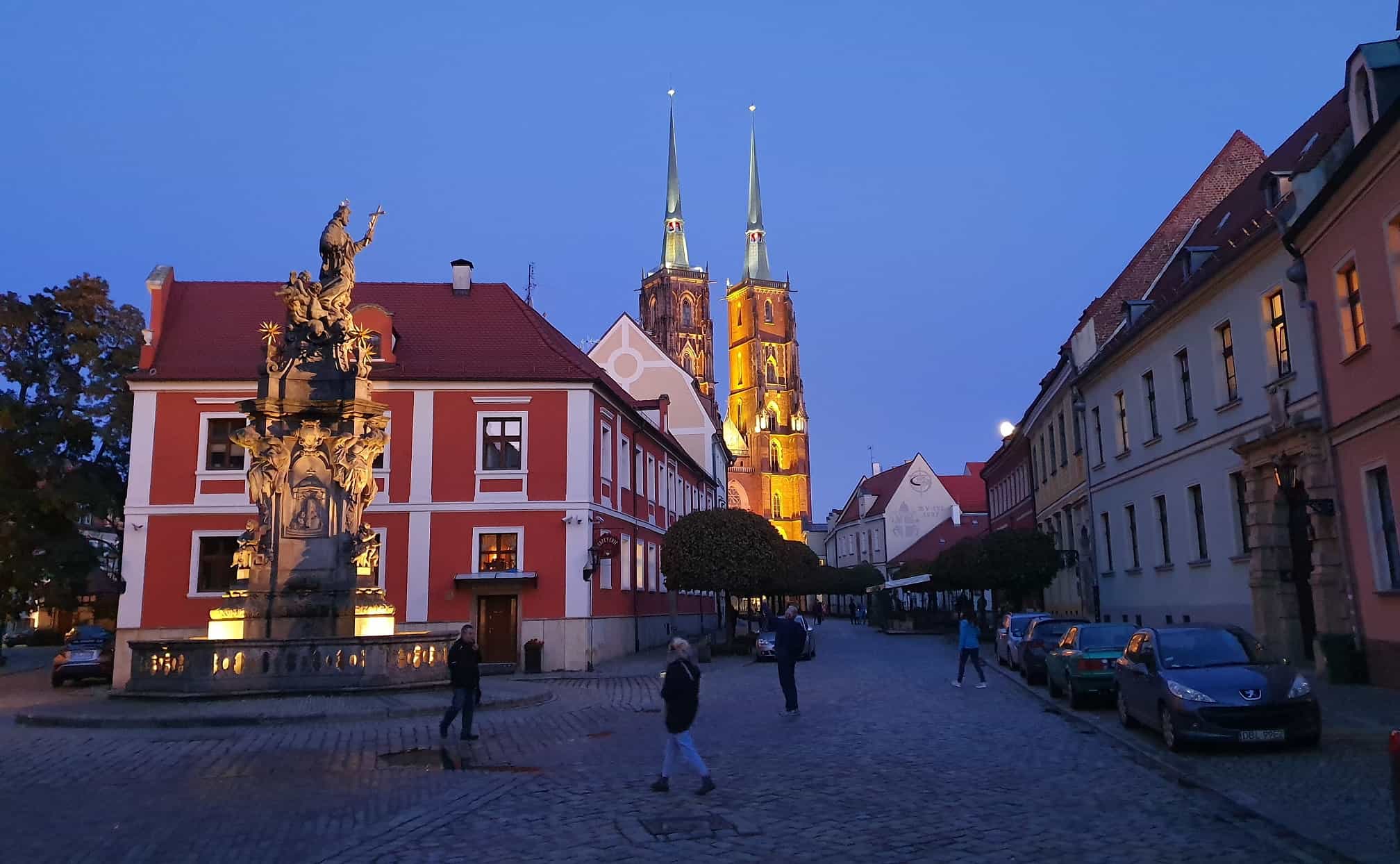 Ostrów Tumski is the oldest and most visited part of Wrocław - its history dates back to the 10th century. Ostrów Tumski hides many unique monuments - mainly sacral ones. First of all, mention should be made of the Cathedral of St. John the Baptist (we wrote more about it below), the church of St. Idzi (the oldest church in Wrocław), a statue of John Nepomucen located in front of the Collegiate Church of the Holy Cross and St. Bartłomiej, as well as the Archdiocesan Museum.
However, we recommend you to go for a walk in this part of the city, which must necessarily include the atmospheric Tumski Bridge (called the bridge of lovers) and a walk over the Oder River.
Cathedral of St. John the Baptist (Archikatedra św. Jana Chrzciciela)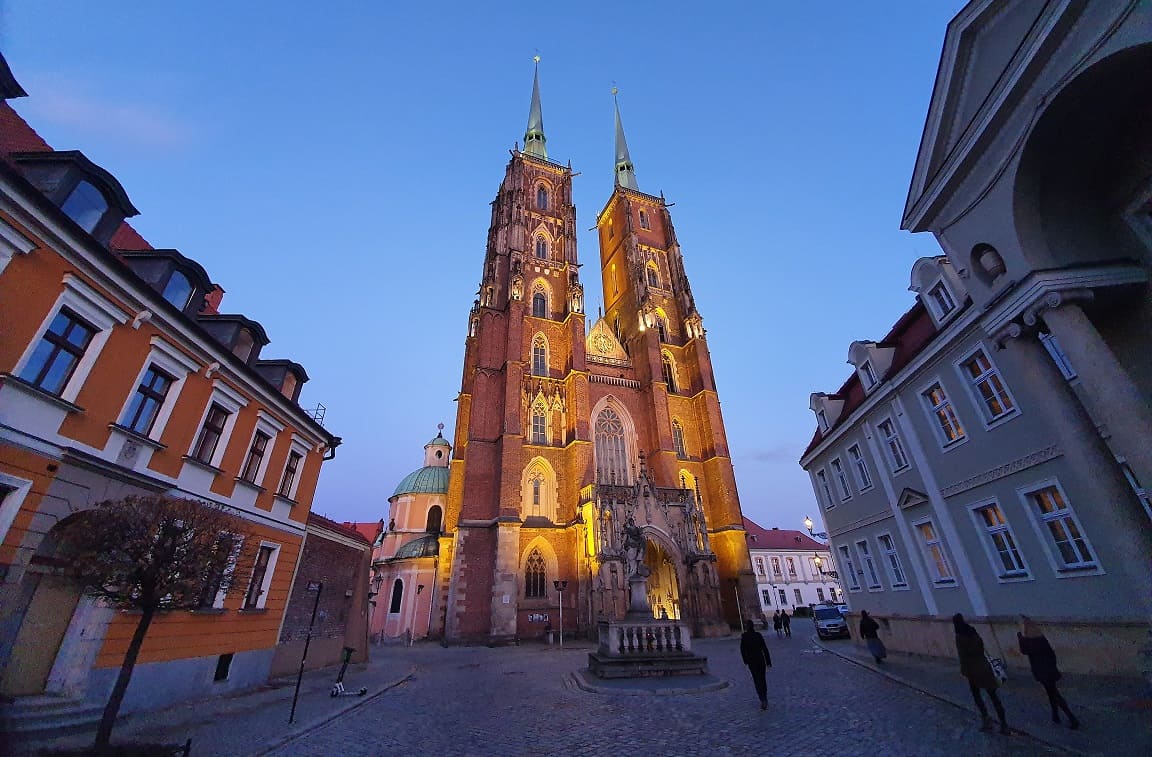 The Cathedral of St. John the Baptist is often called the "Mother of Silesian Churches". It is worth getting to know its turbulent history and unique architecture. It is one of the most popular buildings in Wrocław, visited by thousands of tourists every year. The cathedral dates from the 13th-14th century and was built in the Gothic style - what's more, it is considered the first Gothic temple in Poland. The interior is very impressive. An interesting fact is that tourists can visit the cathedral tower, where there is a viewpoint. And admiring the views from such a place is a real feast for the eyes and soul!
Centennial Hall (Hala Stulecia)
Centennial Hall is on the UNESCO World Heritage List. It is one of the most important symbols of Wrocław. It was built in the years 1911-1913 and was designed by Max Berg - a famous Wrocław architect. Currently, the Centennial Hall is a place eagerly visited by both the inhabitants of Wrocław and tourists. Concerts, exhibitions, fairs and sporting events are held here.
The hall is open to tourists, but it is worth checking before the planned visit whether it is temporarily closed due to current events.
Wrocław dwarfs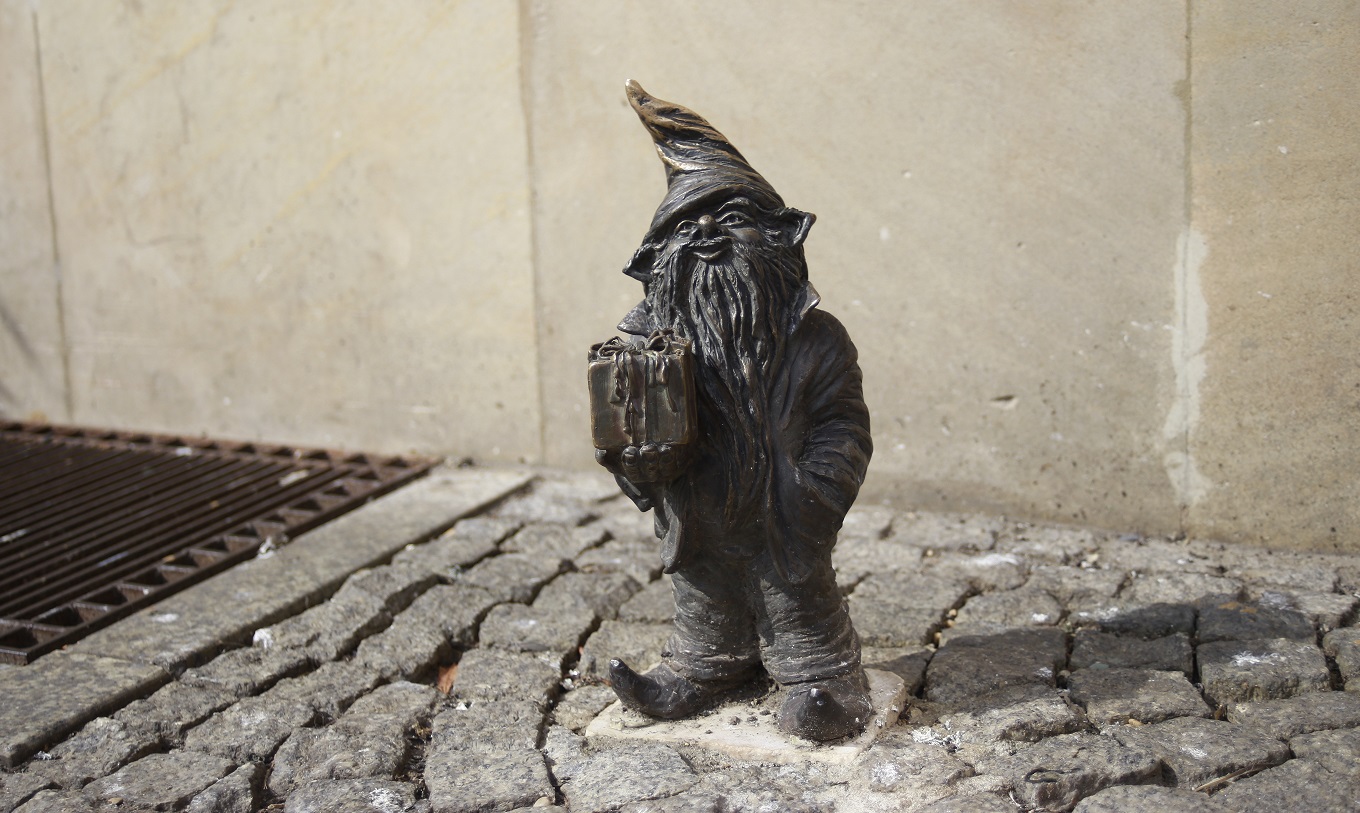 You ask where dwarves come from in Wrocław and why Wrocław is called the city of dwarves? It's all thanks to the Orange Alternative movement, which in the 1980s fought against the communist system in this way. At that time, members of the movement placed drawings of dwarfs and anti-socialist slogans on the walls of buildings. Quite recently, in 2005, it was decided that nice dwarfs would appear on the streets of Wrocław in a slightly different form - sculptures. Thanks to this, you will meet these nice inhabitants of the city in various places. Each of them has its own name - so it's worth going on a trip "following the trail of Wrocław dwarves". Searching for dwarfs hidden in various places will be a lot of fun not only for children!
Wrocław Multimedia Fountain (Wrocławska Fontanna Multimedialna)
The fountain is located right next to the Centennial Hall, and its shows are completely free for everyone. Let's start from the beginning: the fountain is surrounded by greenery and a historic pergola. There are 300 water jets, fire jets and over 800 light points. It is one of the largest multimedia fountains in Poland. Crowds of tourists come to see her shows - and no wonder - she makes a really impressive impression.
Panorama of Racławice (Panorama Racławicka)
Panorama Racławicka has been one of the most important tourist spots in Wrocław for years. Every year it is visited by hundreds of people - both students, youth, adults and seniors. The panorama shows the battle of Poles with Russians near Racławice in April 1794. The length of this work is as much as 114 meters and 15 meters high.
Neon Gallery in Wrocław
This is one of the places that has recently become more and more famous - the Neon Gallery. It is located in the Czterech Wyznań district, in the backyard at st. Ruska 46c. Especially young people liked this place in the evenings. Are you curious how it was created? It's all thanks to the Neon Side Gallery and its owner, Tomasz Kosmalski, who collects historical light advertisements. There are about 30 neon lights in the yard, which make the atmosphere of this place really amazing.
Wroclaw tourist attractions for children and adults
Now we abandon the subject of monuments in favour of tourist attractions, which will certainly appeal to families with children. Wrocław is a city where there is no room for boredom - good fun and, most importantly, a great atmosphere awaits you here. Wrocław is an open city full of smiles and good spirit. We have prepared for you a list of Wroclaw tourist attractions that you should definitely visit, especially if you are visiting Wroclaw with a child.
ZOO Wrocław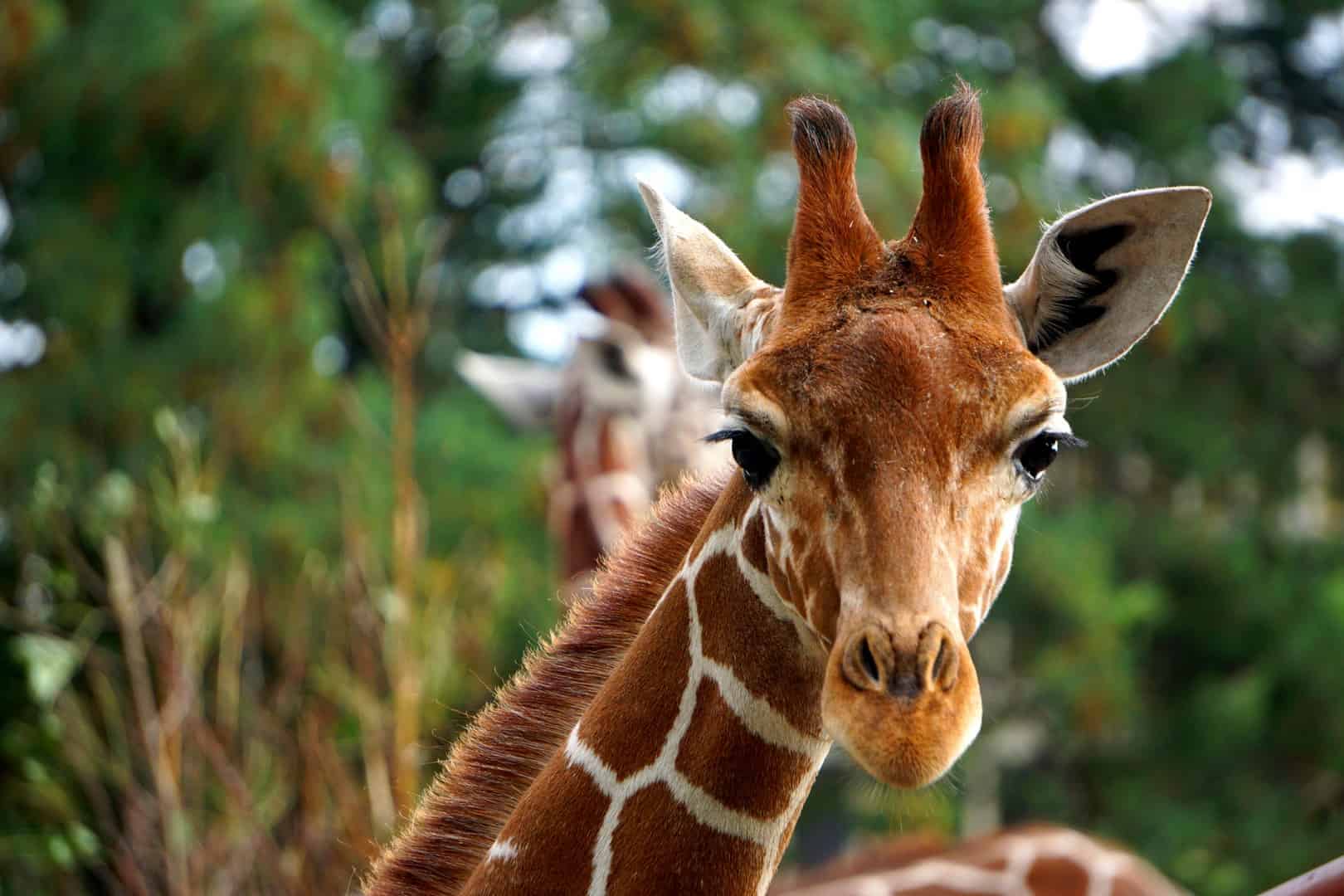 At the Wrocław Zoo you will find almost all the animals of the world - giraffes, zebras, bears, hippos and nearly 250 species of fish that can be admired in the unusual Africarium. Although various types of menageries existed in antiquity, the first modern zoological garden is considered to be the Viennese zoo, founded in 1752. Since then, zoological gardens have gone a long way of evolution. Along with the change in the approach to the natural environment, from the maxim "nature should serve man" to "man should serve nature", the role of gardens has also changed.
The area of the Wrocław Zoo is really vast - you can plan a Sunday walk here, combined with getting to know amazing animal species. Of particular interest is the iconic Africarium - a place where you can go through a water tunnel, see African animals up close, and even take a walk through a real jungle!
Hydropolis
"Everything begins with water" - this is the motto of the "Hydropolis" Water Knowledge Centre. One of the most famous museums in Wrocław delights and fascinates, although the idea to create a water museum might seem a bit eccentric. Hydropolis" consists of 7 permanent thematic zones, cyclical temporary exhibitions. There is also a special zone for children and a relaxation space with a wall made of green "moss", which symbolizes the Amazon forests seen from a bird's eye view.
In the museum you will see machines related to water engineering, you will learn how it is possible that water is on fire, you will see a simulator of snow formation, you will find out how much water a resident of Wrocław consumes, and you will find yourself in the middle of a tiger shark hunting a shoal of 1,500 tuna. There has never been such a museum before! An additional attraction is the longest water printer in Europe in front of the entrance to the Center and the fact that Hydropolis is located in the basement, which once served as a clean water reservoir. It's an absolute hit for big and small!
Where can you find us?
Hydropolis
ul. Na Grobli 17
Bungee Wrocław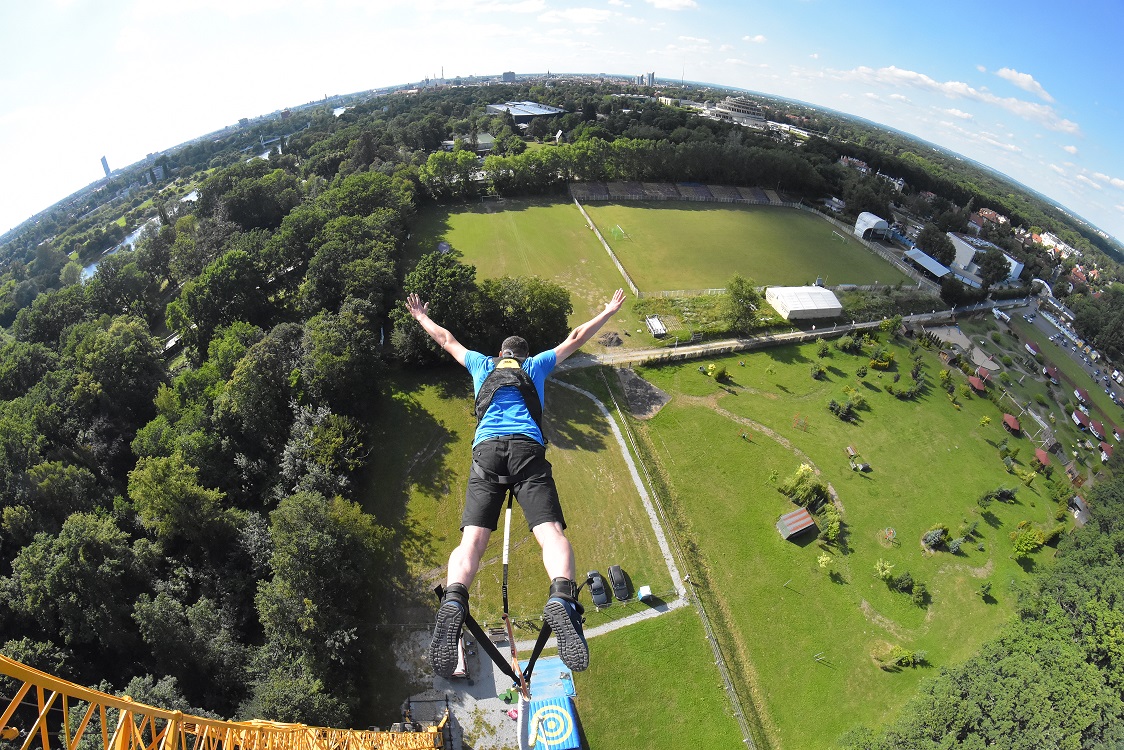 This is an option for the brave ones who are looking for the strongest experience in Wrocław! The only professional bungee jumping in Wrocław from a tower crane from 70 meters is waiting for you at Wroblewskiego 9 street! Top-class equipment and the care of instructors will help you overcome your fear and experience an unforgettable adventure. The jump can be performed separately or in tandem, and there is also the possibility of documenting this moment in photos or video. After entering the platform, you will enjoy the view of the whole of Wrocław. Take a deep breath and... jump!
You don't need great experience or special conditions - smiling instructors explain everything step by step, thus reducing your fear of jumping from a 70-meter crane. Instructors together with the force of gravity, will make your jump an unforgettable experience for the rest of your life.
Where can you find us?
Bungee Wrocław
ul. Wróblewskiego 9
City Golf Wrocław
Or maybe you want to play golf? It is also possible in Wrocław! The City Golf Wrocław Family Golf Center has 10 stands with mats, 10 grass pitches, a training bunker, two putting greens (artificial and natural) and a 50-meter-long training hole. There are 18 mini golf courses on site. The Family Center runs a golf course for beginners. The classes will allow you to learn how to position yourself, hold a club, or perform the correct golf movements. You can participate in the Green Card course and pass the exam. It consists of 10 lessons. Having a Green Card, you are entitled to enter the golf course, both in Poland and abroad. The Green Card also allows you to participate in tournaments for beginners. There is a point serving coffee, tea and other drinks on the premises.
City Golf also organizes company events, picnics with a bonfire and golf-themed birthdays. For details, call 664 064 364. The center is open daily from 10:00 to 20:00 (on Mondays from 15:00). Park your car in the free car park at the tram depot.
Where can you find us?
ul. Grabiszyńska 240, Wrocław,
citygolfwroclaw.pl, tel.: 502 455 262
Kwatera Główna - Laser Tag Center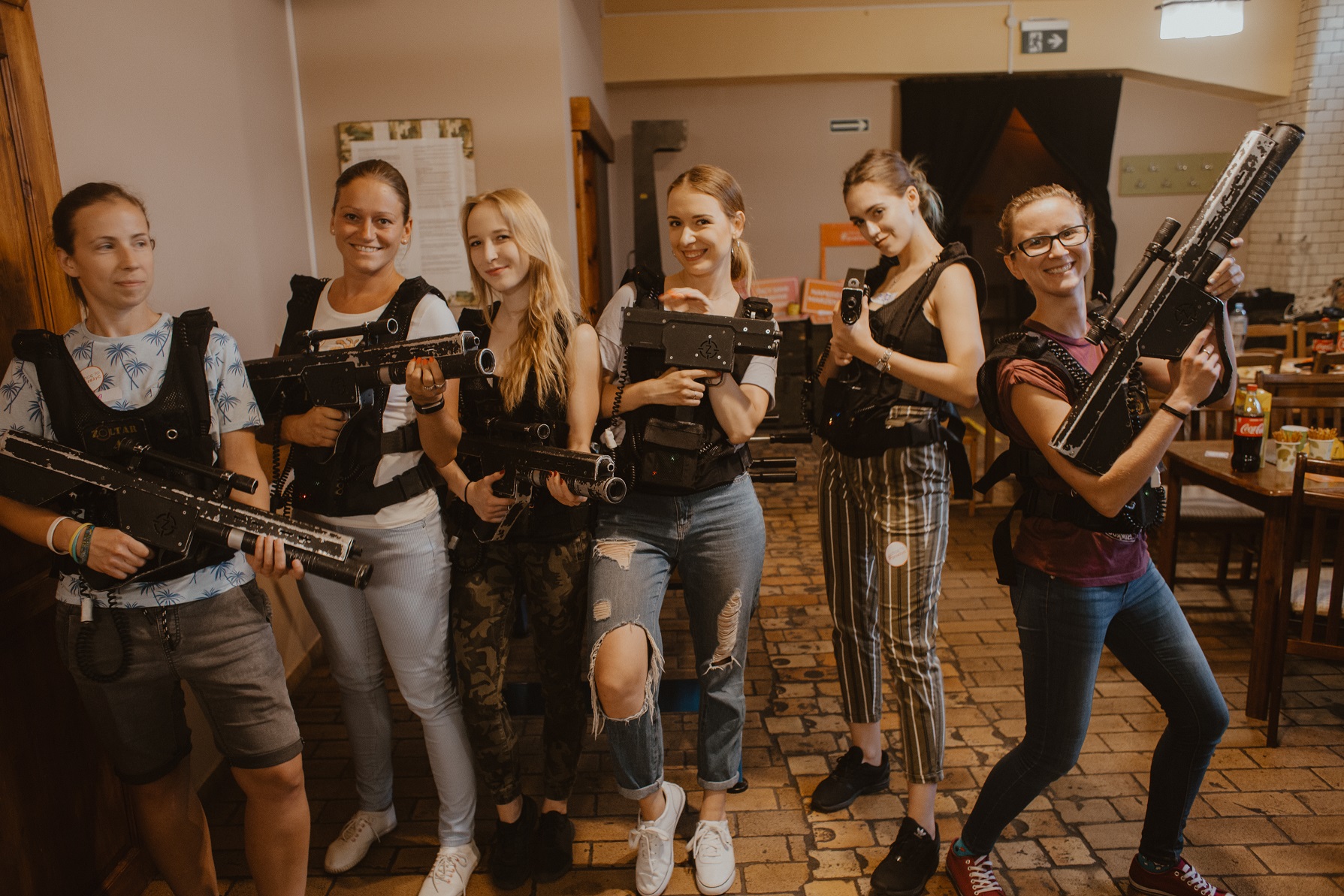 All those who want to experience a bit of a crazy adventure are invited to laser wars in the center of Wrocław! Emotions, adrenaline and competition await lovers of extreme sensations at the Kwatera Główna. This is the only place in Wrocław where you can play laser paintball!
The games take place in specially prepared basements of the building located at 8a Sienkiewicza Street, next to the Botanical Garden and in the vicinity of Ostrów Tumski. Before starting the game, participants receive Zoltar equipment: rifles emitting an infrared beam and special vests with sensors. The rifle is equipped with a special LCD display where you will find all the most important data about the game. You will learn e.g. how much ammo you have left, what shooting mode you have selected (machine gun, sniper, shotgun, grenade launcher) and thus, what is the power of the shot. On the screen you will also find data on the number of health points, battery status, remaining game time, all opponents who hit you and the status of your vest sensors. They are the ones who decide whether you will hit your opponent. If you lose all your virtual life, depending on the game mode, you must return to base or wait a certain amount of time. The Zoltar system makes realistic sounds played from the speaker located on each vest and rifle. You will hear both hit and life loss cues.
After a little preparation and training, you will enter a dark, smoke-filled maze, where the gameplay will begin. The labyrinth has an area of 430m2, is located in a building, which means it is completely independent of weather conditions and maintains a constant temperature suitable for physical activity!
If one of the players is hit by a light bolt, this fact will be immediately registered by the sensors mounted on his vest - so it won't go unnoticed!
The advantage of laser paintball is that the game is painless and safe, and the system used in it excludes the possibility of any cheating. Both individual customers of almost all ages and organized groups can participate in it.
Kwatera Główna is a perfect place to de-stress after a hard week with a group of friends, as well as to organize a bachelor party, children's birthday party or a company event. The game modes are different, you can play a 1v1 duel, although the real fun is only in a group fight (up to 14 players in the arena).
Price: PLN 45 per hour (two 20-minute games) / person. Up to 14 people in one game. We invite all daredevils!
Where can you find us?
Kwatera Główna
Laser tag center
Sienkiewicza 8a
50-335 Wrocław
www.kwateraglowna.pl
phone +48 531 638 000
World Cinema Museum - MovieGate
How about going down to the underground of Wrocław? More specifically, Plac Solny, in the heart of the Old Town? We invite you to MovieGate - an unusual attraction with several different entertainments. First things first…
MovieGate is located in a real, well-preserved war shelter - for this reason, we can talk about its uniqueness. Inside, 6 meters underground, on an area of 536 square meters, there are 50 rooms, some of which are filled with a collection of unique props, costumes and stage design elements from the production of the largest film sets such as Harry Potter, Star Wars, Gladiator and X-Men. The exhibition is constantly changing!
The second part of the exhibition is devoted to illusion - in the science center there are shows of the Mad Scientist who will reveal the secrets of physics and chemistry to the youngest. In addition, some of the rooms contain elements of illusion - various mirrors that will provide a lot of laughter.
The third part of MovieGate refers to the history of the Second World War - there are authentic elements such as fluorescent paint inscriptions on the walls, elements of uniforms and weapons. Come experience a triple adventure!
Where can you find us?
Underground of Plac Solny 10a
50-061 Wrocław
Tel: 662 911 003
E-mail: biuro@moviegate.pl
Adventure Fort
For those who don't have enough adrenaline, we invite you to Fort Przygody in Wrocław's Sołtysowice. This is a paintball center located in a real military training ground. This is a place for both adults and children - there are paintball games, quads, bumperball, shooting ranges for children and adults, and field games with elements of orienteering. Why is paintball an interesting adventure? Well, if only because it's like a real war, only with balls filled with colourful paint. By running away from your opponent, you will release a lot of adrenaline, learn how to work in a team and integrate with the rest of the team.
The game takes place on an almost 2-hectare field with additional obstacles: brick buildings, bunkers, tire curtains, a ditch with water and other obstacles that are supposed to diversify the fun. The entire paintball event is led by an instructor - so you are fully safe and taken care of!
At Fort Przygody, you can also spend time on quads in extremely difficult terrain. At the beginning, you will undergo a short training so that you can safely face the quads and obstacles waiting on the way. Children and teenagers up to 16 years of age can also participate in the quad ride - then the ride takes place with an instructor.
Thanks to the grill and recreation zone, full facilities and the specificity of paintball as a team game, a visit to Fort Przygody is a great idea for a getaway with a group of friends, spending an original birthday or an integration event.
Remember, however, that it is necessary to reserve seats before your visit!
Where can you find us?
Fort Przygody
Redycka 77 street, 51-169 Wrocław
Racing Vehicle Simulator Hub - Apex One
Few people know that it is in Wrocław that complex mechanisms used for simulators of cars and racing cars, whose races you can watch on TV, are built. However, the traffic platforms created by the Wrocław-based company are available not only to professional drivers. Everyone can feel like Robert Kubica in the center of Apex One racing car simulators.
There are three racing zones in the center - F1, GT and PRO, which differ from each other in terms of traffic systems in simulators. Interestingly, the same simulators are used for training and training of professional racing and rally drivers around the world. And we, who until now had no idea how to drive a car, you can try to drive your car yourself. Just put on your headphones, focus and get to your destination. Everyone can use simulators - we guarantee that it's an amazing adventure!
Where can you find us?
Apex One Training and Simracing Center
st. Powstańców Śląskich 95 - SKY TOWER
Indoor Golf Wrocław
Something for sports fans in a new edition! In the TrackMan and TrackMan VIP zones, you can use 2 stands with TrackMan 4 golf simulators, providing entertainment and sports competition at the highest level.
On the simulators, you can practice your golf game, play on virtual golf courses or enjoy many golf-based party games, such as the popular "Bullseye", which involves hitting designated targets. You choose the difficulty level and scenery. You can move into the urban jungle, choose the atmosphere of the wild west or the lost world of dinosaurs.
Another of the games - "Capture The Flag" is about getting the ball as close as possible to the selected hole, but be careful, your teammate can take your prize if he lands closer than you. There are also suggestions for children - a very popular and liked by the youngest game "Magic Pond", in which the charges turn into hunters of underwater creatures inhabiting the titular magical pond. Or maybe you just want to play a round of golf? Nearly 170 golf courses from around the world are available in the TrackMan library, including, for example, the legendary Old Course in St. Andrews in Scotland. When playing golf on the simulator, we use the same equipment in the form of balls and golf clubs. We swing and move the golf ball in the same way as when we hit the golf course.
The convenient location in the center of Wrocław and free parking (up to 4 hours), as well as the availability of services 7 days a week from 9 am to 11 pm, allow you to freely plan your activities during the week or in the evenings.
Where can you find us?
st. Braniborska 14, 53-680 Wrocław
ZOO Team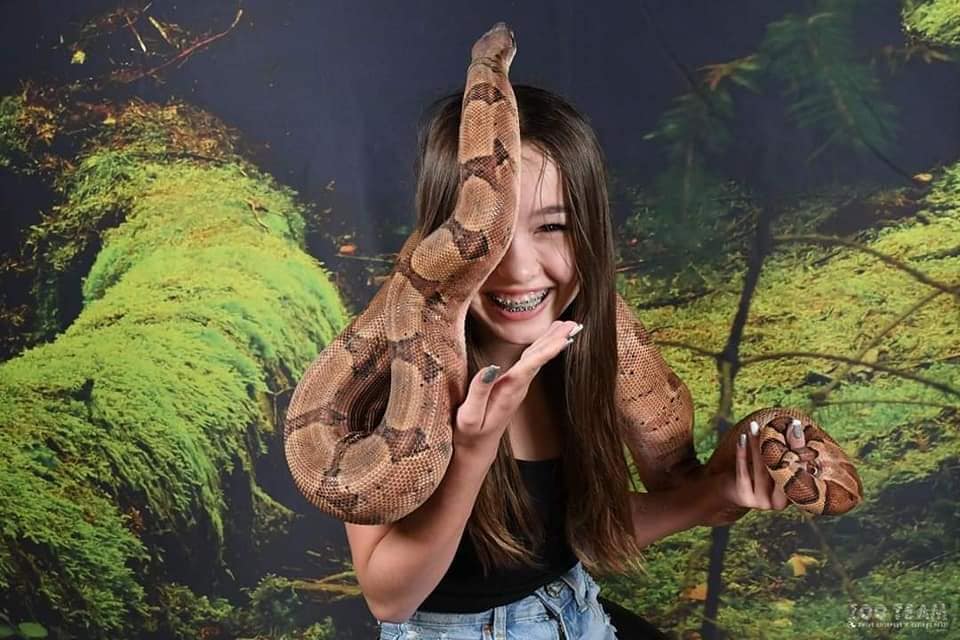 Have you ever had the opportunity to feel the touch of a tarantula on your own skin? Or maybe you always wanted to touch a boa snake? At ZOO TEAM you can see and handle many exotic animals, such as boas and pythons, as well as various types of amphibians - small and large lizards: monitor lizards, agamas, geckos and chameleons. There are also tarantula spiders and scorpions.
At the ZOO TEAM, the most frequent guests are families with children, who are delighted to discover whether giant tarantulas are really as hairy as the legend says, or whether boas can be stroked. At the exhibition you will find over 100 animals such as spiders, lizards, snakes, turtles, centipedes, iguanas, geckos, centipedes and praying mantises, which you can not only touch, but above all learn how to breed them at home.
Where can you find us?
Zoo Team
st. Powstańców Śląskich 2-4 (Arkady Wrocławskie), p. I
Jump World Wrocław
The park has been divided into several zones, the largest space for madness can be found in the Main Arena. There are trampolines on the floor and even on the walls. No matter how advanced trampoline lover you are, you should visit the sponge pool. Nothing gives such satisfaction as a high flight and... a soft landing. In Jump World Wrocław you will also find an acrobatic zone, a volleyball zone, a basketball zone, a rope on which you can swing like on a liana or a gladiatorial fight zone, where only one winner will be the winner (and the loser will fall somewhere to the bottom of the pool with sponges).
Where can you find us?
Jump World Trampoline Park
st. Otmuchowska 15
Cruises on the Odra River
Or maybe you are willing to visit Wrocław from a completely different perspective? From the perspective of the Oder! Discover the nooks and crannies of Wrocław during a cruise on one of the following ships: Nereida, Wiktoria, Dryada, Goplana or Gucio. Individual cruises are possible, as well as renting a ship for an event lasting many hours: birthdays, corporate events, banquets, weddings, hen or stag parties or other special events. Events are framed in music and catering.
Which ship will you choose? Dryad, sailing through the Szczytniki Lock, Goplana with palm trees on the upper deck, small ship Gucio with an interesting route in more difficult to reach places, steamer Nereida, which produces smoke from the chimney during the cruise, or maybe steamer Wiktoria, for which all ladies named Wiktoria have free ticket? Cruises depart from the Kardynalska Harbor on Wyspa Piasek and the ZOO harbor (at the Japanese Gate - the rear entrance to the Zoo).
Where can you find us?
office: biuro@statek.com.pl
ship rental: wynajem@statek.com.pl
reservations for groups and trips: grupy@statek.com.pl
management (opinions, reports of inconvenience): dyrekcja@statek.com.pl
phone/fax: 71 328-36-18 8.00 - 19.00
phone/mobile: 609-200-867 8.00 - 19.00
phone/mobile: 605-221-220 8.00 - 19.00
Marina / Przystań Zwierzyniecka / Water equipment rental
phone: 883-672-558
Tourist and Cycling Information Centre (Centrum Informacji Turystycznej i Rowerowej)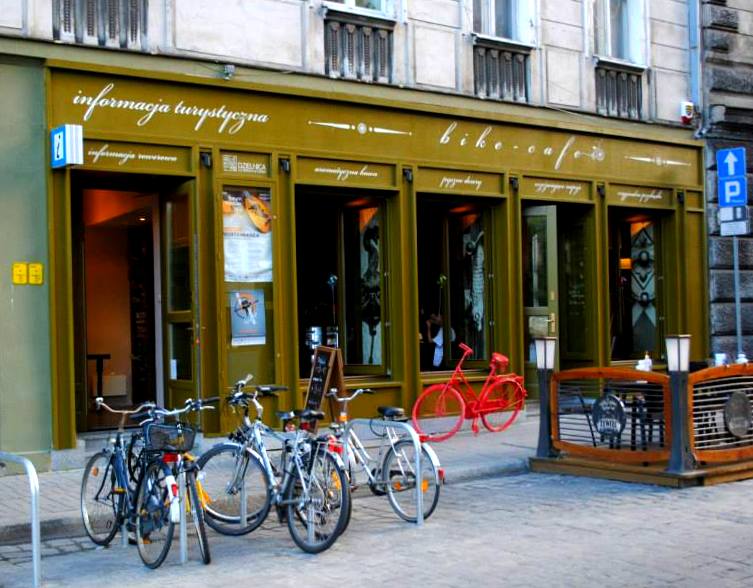 Located right next to the Market Square, in the District of Four Denominations (Dzielnica Czterech Wyznań), the Tourist and Bicycle Information Center, apart from original souvenirs from Wrocław, offers a package of professional tours around the District of Four Denominations, Wrocław and Lower Silesia, addressed to Polish and foreign tourists. Here you will find out what, where and how - the information staff will provide you with valuable information that most sometimes lost tourists are looking for, for example about current events happening in the area. The Center conducts reservations for accommodation, entrance tickets to monuments or cultural and sports events.
In addition, the center offers a package of bicycle trips around Wrocław and to slightly further corners of Lower Silesia. Both Wrocław and Lower Silesia can boast a very extensive network of bicycle trails, so being in Wrocław it will be a sin not to use the bicycle trails offered by the city. As befits a cyclist-friendly place, there is also a bicycle rental in the centre.
Where can you find us?
Tourist and Cycling Information Centre
st. Antoniego 8 street
50-073 Wrocław
tel. 71 346 15 34
email: it@dzielnica4wyznan.info.pl
Crazy Carts Wrocław
Electrically powered wheelchairs with a "handle" lever designed to take corners sideways. This is a place where you can learn drifting in a completely safe way on a specially prepared track, and professional staff will help and answer every question. Despite their small size, they positively surprise! This is a great attraction for both children and adults! A lot of adults think that it's "too small for them" - and the truth is that maybe it's adults who have more fun than children (although no one admits it out loud ;))
A visit to Crazy Carts is an idea for an afternoon together, birthdays, company events or bachelor parties.
Where can you find us?
st. Powstańców Śląskich 2-4 (Arkady Wrocławskie), p. I
Przystań Złotniki - pontoon trips in Wrocław
Rafting starts from Przystań Jarnołtów on the right bank of the Bystrzyca river. Getting into the big pontoons, you should be prepared for picturesque views and rest surrounded by a forest. The entire section is navigable, there is no need to carry a pontoon, and the trip lasts from 60 to 80 minutes, depending on the pace of paddling and the water level. The rafting ends in Leśnica, and from there the employees will take you to Ratyń. A walk through the most interesting part of the Bystrzyca Valley Landscape Park ends in the same place where we started the trip. On the banks of Bystrzyca, it is possible to light a barbecue or have a picnic - doesn't it sound like a weekend plan for a group of friends or family?
Where can you find us?
Przystań Złotniki
st. Skoczylasa near number 60, Wrocław-Leśnica (at the Kładka Błogosławionego Czesława)
Attractions outside of Wrocław
Not only in the city center you will find numerous tourist attractions - there is also something to do on the outskirts and close surroundings! We present to you some unique places that you should take into account when planning to explore the area.
Happyland
Happyland is a family outdoor play centre. Importantly - the largest in Wrocław and its vicinity. If you haven't heard of it yet, we want to fix this bug. Happyland is a newly opened attraction that from the first days won the hearts of kids who want to have fun in nice natural circumstances, away from the hustle and bustle of the city.
On over four thousand square meters, children can have fun in mazes, slides, trampolines and inflatables. In the summer, a water zone with slides will also be launched. For the youngest children, there is a baby zone (play corner) - children up to 3 years of age can play there, and delicious coffee and something sweet await their parents.
Where can you find us?
Happyland
st. Flowers of the Field 54A, 50-003 Krzyki
Kopalnia Wrocław - Strefa Wakacji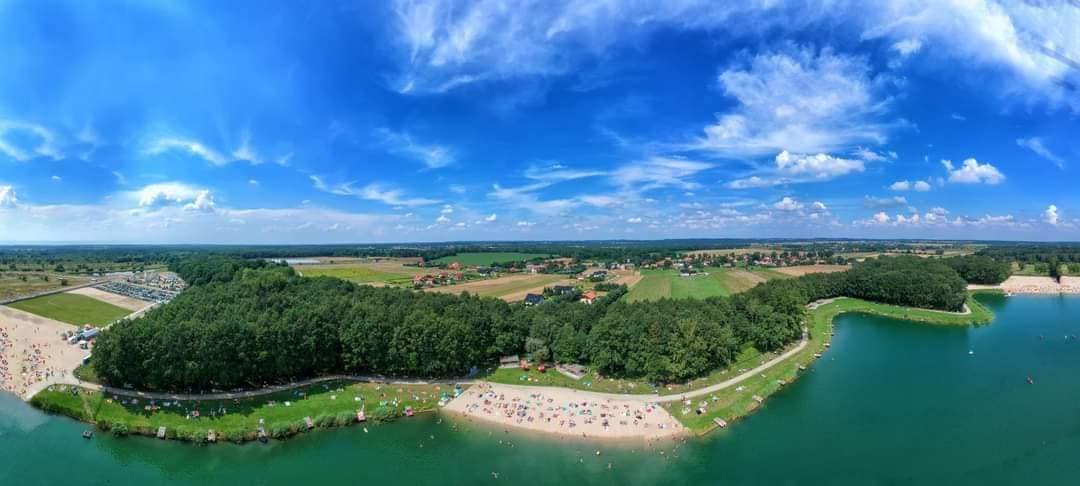 In Paniowice near Wrocław, in the valley of the Widawa River, on an area of 9 hectares, around a large and clean body of water, a holiday complex was built, divided into thematic zones: a family beach, an entertaining Beach Club, a climatic Bay and an Island - a zone of freedom for pets. It's a good place for everyone. For those who dream of a lazy holiday on a sandy beach in the summer, who just want to take a walk along the beach around the reservoir, and for those who are active, there is a modern Water Sports Zone waiting for them (Wibit water playground, Flyboard, Skimboard, SUP boards, Big Bubba, etc. ), as well as beach volleyball and football pitches, playgrounds and trampolines.
For small and big gourmets there is a gastro zone with food trucks and a Beach Bar.
You will also find extensive relaxation zones - an island on the water, a bay, gazebos where you can organize your own party, and in the season there are also rentals of swimming equipment, sunbeds and umbrellas. It is also an ideal place to plan bicycle trips along the shore of the reservoir and forest trekking - you will be close to nature here! Very close!
Where can you find us?
Kopalnia Wrocław - Strefa Wakacji
st. Odrzańska 11, Paniowice
Restaurants, ice cream parlours - where to eat well in Wrocław?
After a day of sightseeing, it's worth eating well! Wrocław is a city rich not only culturally, but also in gastronomy. Numerous restaurants and cafes await tourists visiting the city - from Polish, to Italian, Indian and Chinese cuisine. Check it out.
Polish Lody
A few years ago, Polish Ice cream won the hearts of the inhabitants of Wrocław and the good streak continues to this day. Delicious, natural artisanal ice cream awaits here every day - through classic, everyday flavours: cream, chocolate and strawberry, to sophisticated, sometimes bizarre and surprising flavours - through dried fruit, Snickers or Kinder flavours, through sorbets, and ending with gorgonzola ice cream. One portion should satisfy the desire for sweets without disturbing the remorse.
You can recognize Polish ice cream by the queue - on warmer days, there are long queues of people who want to try these delicacies. Be sure to take a look and answer the eternal question yourself: "is it worth standing in this queue?". We think it's definitely worth it!
Where can you find us?
Plac Bema 3
st. Oławska 11
Wrocław Gallery
st. Ameriga Vespucciego 16a - Olimpia Port
st. Hubska 83
st. Legnicka 56
ZaZoo Beach Bar (depends on weather)
Samarqand
The advantage of the Samarqand restaurant is its location close to the main railway station - so if you have just got off the train, but do not want to end your journey, Samarqand will take you on a culinary journey to Uzbekistan.
Uzbek cuisine is specific - it differs from Polish, but is similar enough to taste what traditional dishes love. Uzbekistan is dominated by fresh vegetables and strong oriental spices that remind us from afar that we are hungry. What will you find in the Samarqand menu? First of all, starters, which play an important role here: Uzbek tashkent salad, niszona, beef tongue or Uzbek soups such as solanka or ciućwara. Secondly: main dishes - kazan, kawob plow, Uzbek duck or traditional dumplings with various types of filling - manta. A specialty in Samarqand are grilled and oven dishes - warming, aromatic, perfect for winter evenings. The whole is complemented by stylish interiors, where it is as if ... luxurious! Sometimes you can even find an evening with live music here.
Where can you find us?
st. Stawowa 23 (a few minutes from the train station)
Lwia Brama²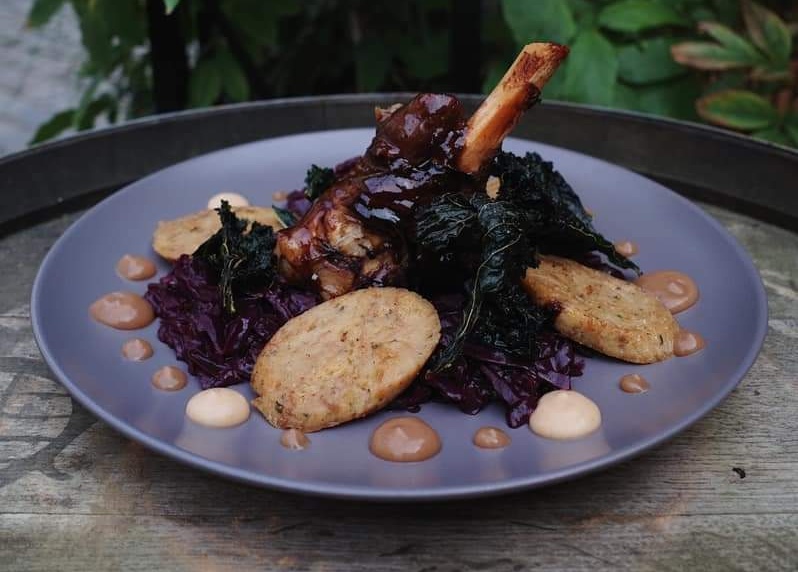 Lwia Brama² is a restaurant located in the oldest part of Wrocław, Ostrów Tumski. Its unique character is evidenced not only by its fabulous location, but also by the amazing cuisine served by Jarosław Józefowski, who perfectly expresses his passion on a plate by combining regional ingredients with products of his own production. In its charming medieval cellar and beautiful green garden located just under the Cathedral of John the Baptist, tourists and residents of Wrocław will find shelter from the city noise. It's the perfect place for a romantic dinner or an atmospheric meeting with a larger group.
Where can you find us?
st. Katedralna 9 (next to the Cathedral, Ostrów Tumski)
CHINGU - Korean Street Food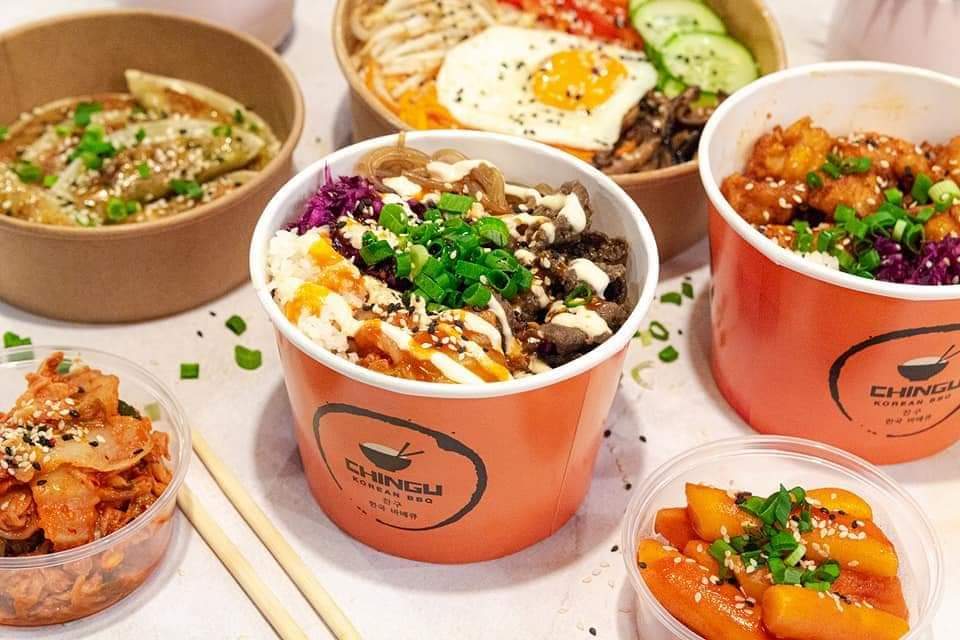 Dishes in Chingu are characterized by an original combination of flavors - spicy, sweet and sour. In Chingu you can also eat Korean classics such as bibimbap, tteokbokki, mandu, or the surprising popcorn chicken.
The Chingu concept was launched in September 2017 at the Wrocław Gourmet Bazaar. From April 2018, the food truck Chingu took part in various events and food truck rallies, winning numerous awards, including the title of Food truck of the year as part of the Wrocław Gastronomy Awards 2018, the Audience Award at Wrocław StrEAT vol. 8 - AZJA Street Food Festival. Chingu was also among those awarded in the competition for the Fork of the Year 2018. All those eager for Korean flavours are invited to Chingu - a food truck and a place located right next to the most famous dormitories in Wrocław - Kredka and Ołówko.
Where can you find us?
st. Bujwida 25
st. Widna 6 (food truck)
Thali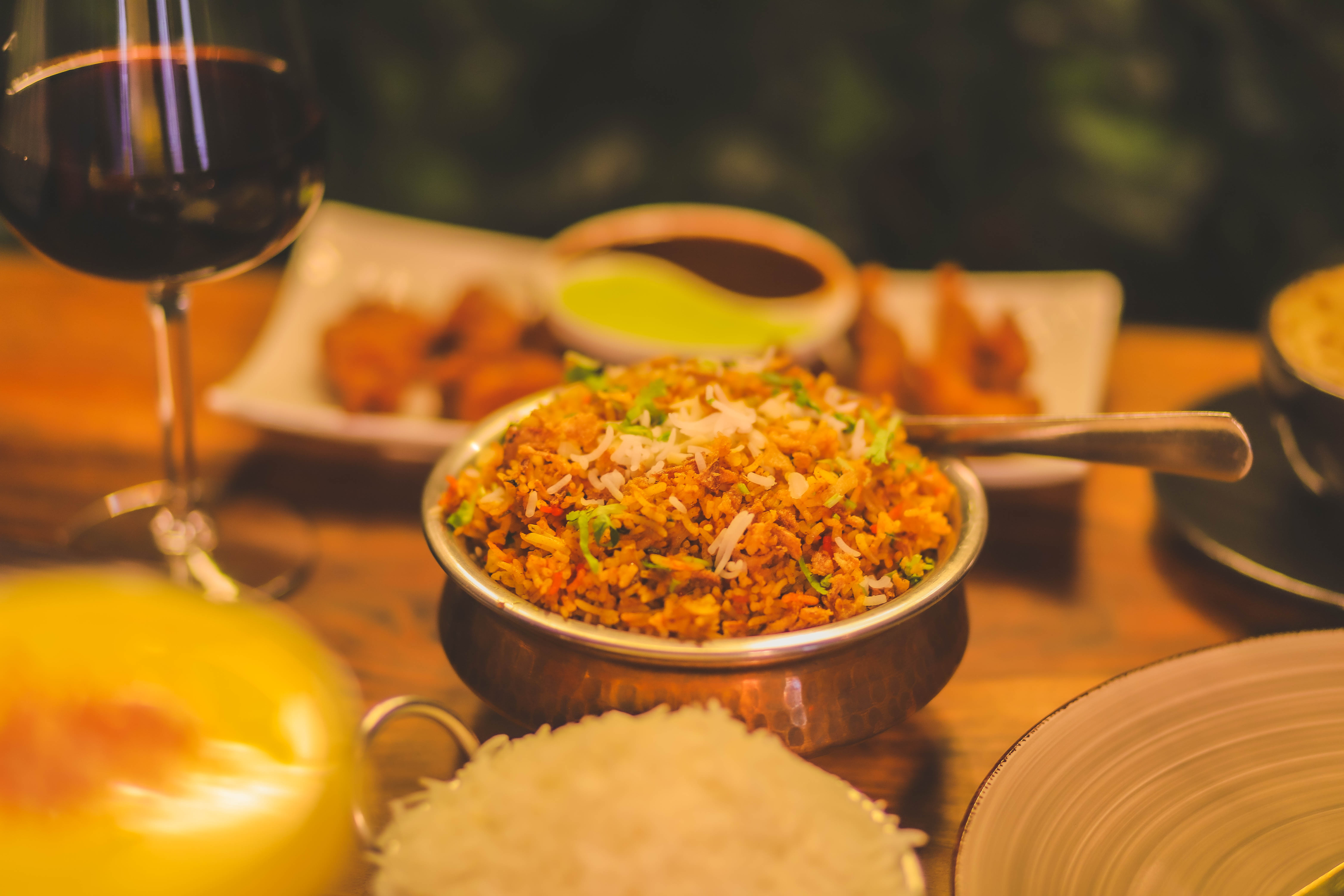 Already at the doorstep of each of the three Thali restaurants in Wrocław, you will be greeted by the smell of Indian spices floating in the air. Turmeric, cumin, cinnamon, cardamom, cloves, chili, ginger, with which traditional Indian dishes are seasoned: curry, tikka masala, butter chicken or tandoori, trigger emotions in us even before we get the ordered dish. The Thali plate, which is the flagship item in the restaurant menu, in a meat or vegetarian version, contains a whole cross-section of Indian specialties: soups, samosa, curry, papad, naan bread, rice, salad and dessert.
Where can you find us?
st. Ruska 19
st. Jedności Narodowej 161
st. Marii Skłodowskiej-Curie 5
Mio Gelato Ice Cream Parlor and Café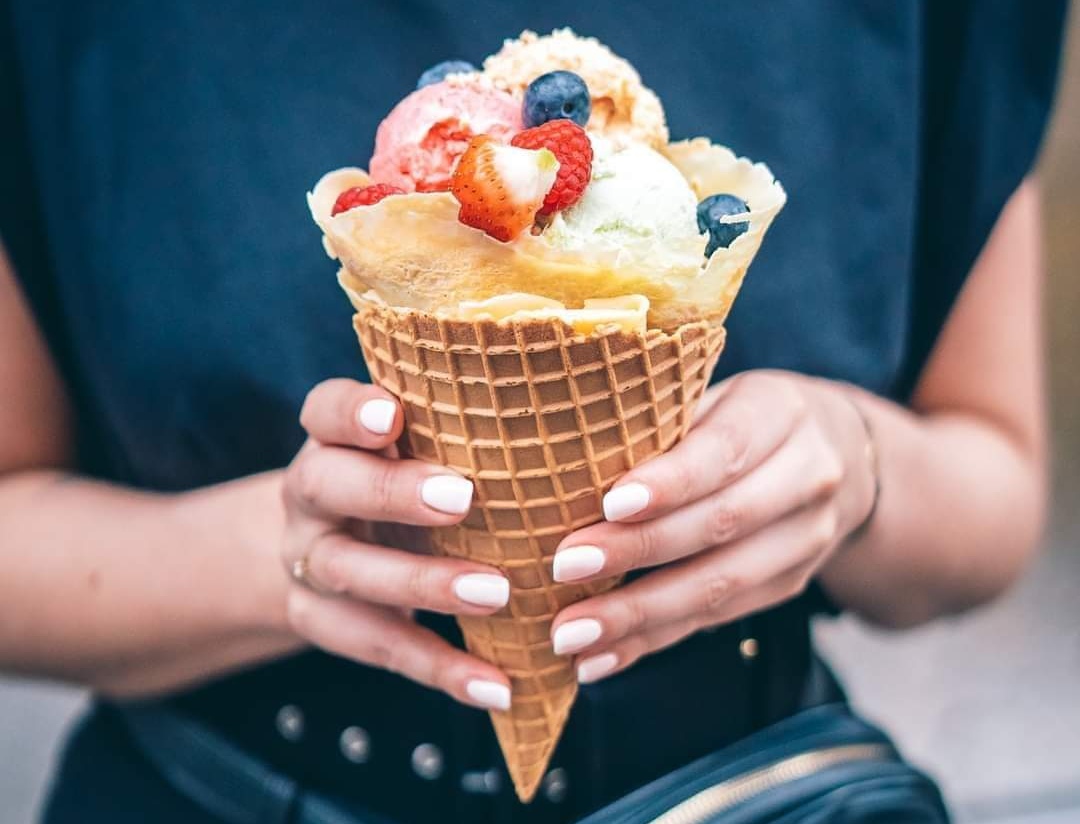 Mio Gelato ice cream is the real Italian ice cream in the heart of the city. From the beginning, the authors of this place were guided by one idea - to make ice cream honestly. By avoiding ready-made semi-finished products, not using shortcuts, do not go the easier and cheaper way. That's why the work in the ice cream parlour is in full swing from the morning. Slicing, peeling, mixing, blending, caramelizing, and (using a jewellery scale) measuring secret ingredients, so that the ice cream that is served in Mio tastes best. Pancakes with ice cream are a novelty on the Wrocław market of gastronomic sweets!
In Mio Gelato you can also drink the best quality Italian coffee and eat other desserts - cakes, waffles, tubes with cream, chocolate marshmallows, tiramisu and cakes. These delicacies cannot be missed.
Where can you find us?
st. St. Antoniego 16 (at the Market Square), tel. 668584544
st. Zwycięska 45/1, tel. 692190192
OVO Wrocław, st. Podwale 83
Kebz Wrocław
Kebz deviates from the usual kebab pattern, which we treat rather as a quick snack - it is a project that does not copy flavours, but invents its own, new, original and surprising. Let this kebab on a plate, in a bun or tortilla with the addition of original sauces, with lots of extras such as vegetables or fries, accompanied by friendly service, become your idea for dinner. Not a quick snack - a full-fledged dinner, which you will definitely not regret! The offer also includes a veggie version with falafel.
Where can you find us?
st. Nowowiejska 82 - next to Tołpa Park and Wrocław's Hogwart
Nocny Targ Tęczowa
Pizza Bunga
Among our proposals, of course, pizza could not be missing!
Bunga has been conquering Wrocław since 2011 by opening more points. Appreciated for its fluffy dough, great toppings, homemade sauces and fast delivery. All menu items are prepared with products that can also be ordered for delivery. This proves the authenticity of the pizza served here. No one is lying here - you eat here! It's a combination of Italian pizza with a fluffier American pie.
The menu includes classic items and unique, original pancakes with chorizo and honey, truffles or bbq whiskey. Pizza with the hottest paprika in the world awaits spicy fans!
Where can you find us?
ul. Gazowa 88, tel. 538 484 000
ul. Dedala Boulevard 18, tel. 513 741 320 or 71 349 54 96
ul. Rydygiera 34, tel. 508 603 460
ul. Inżynierska 27, tel. 608 342 942
AR-Bar
Do dragons live in Wrocław? Maybe yes! You will find out in different than the rest, a unique fantasy bar - AR-Bar! Hidden in the basement of the Wrocław Market Square, the bar will allow you to move to another world and immerse yourself in a mysterious land thanks to unique music straight from games and movies, brilliant decor, interesting board games and impressive, fairy-tale cocktails!
AR-Bar attracts fans of role-playing games, adventurers, fans of potions and monster slayers - but the most important thing is ahead of you. Find the underground where this mysterious spot is hidden…
Where can you find us?
Wrocław, Rynek 5, e-mail: arbarwro@gmail.com
Czarna Magia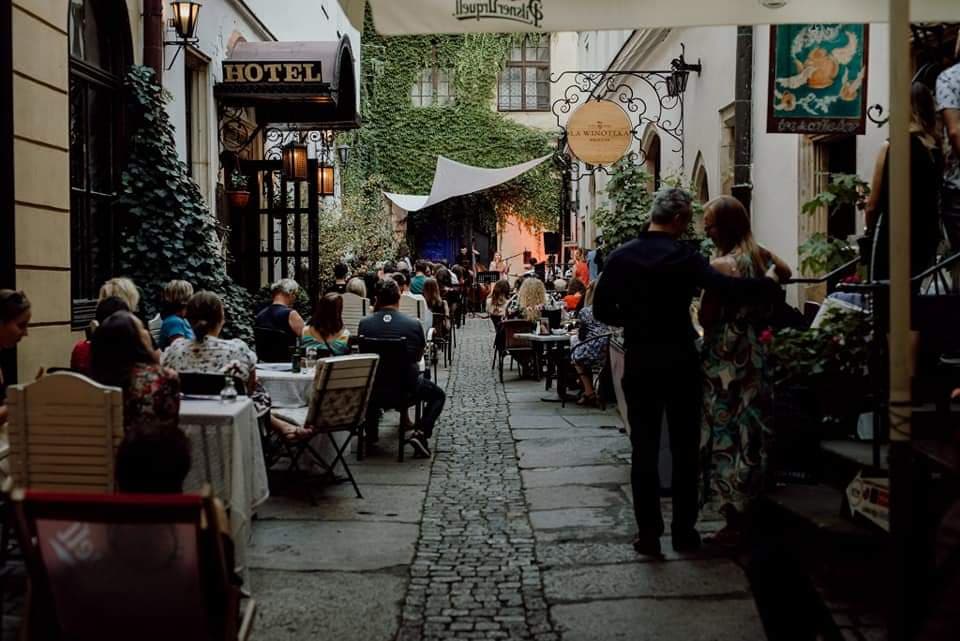 When walking around the Wrocław Market Square, it is worth taking a look at the side streets. This is Kiełbaśnicza Street! Sitting on the ivy-covered, magically lit patio, you will delight your taste buds with delicious coffee, desserts, lunches and cocktails. Or maybe you will also come for an evening with live music? Here everything is possible thanks to Czarna Magia! Coffee from Czarna Magia is one of the favourites in the coffee shop rankings. But we do not want to convince you here. Better find out there, on the spot, sipping coffee in the most atmospheric patio in Wrocław!
Where can you find us?
Wrocław, st. Kiełbaśnicza 2, tel. 71 366 65 37
Cybulskiego 10. Lody prawdziwe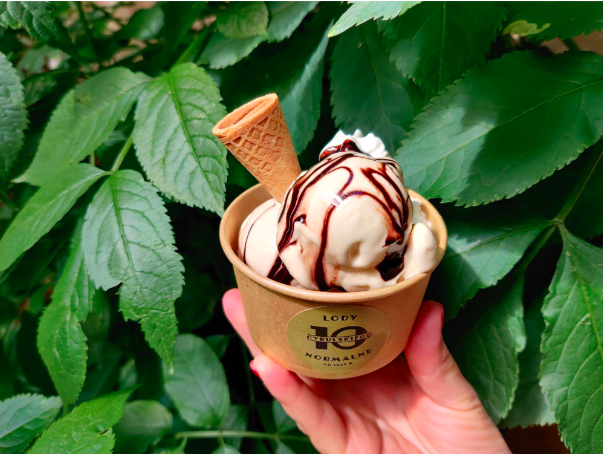 The ice cream parlor has been operating continuously since 1956 and is one of the oldest in Wrocław. Artistic Nadodrze and historic tenement houses are an environment that emphasizes the ideas behind the production and serving of ice cream in this place for generations. Ice cream at Cybulskiego is a combination of tradition and modernity - ice cream is made here according to recipes handed down from generation to generation.
Production takes place on site - there is no ice cream here! The tradition at Cybulskiego 10 is to serve fluffy sorbets in double portions for the price of one portion! Classic flavors include cream, dried fruits and nuts, coffee with milk. Every day you can also surprise yourself with a new combination, such as ricotta with cherry, chocolate with plum jam or red blueberry with pear. And always something for vegans!
Where can you find us?
Wrocław, st. Wojciech Cybulski 10
Bikers Bistro
Bikers Bistro located next to the Tourist and Bicycle Information Center will welcome you with good coffee, a tasty dessert or savory snack, craft beer and a refreshing cocktail. But! It is also worth coming here after hours. In the evening you will hear live music, sing karaoke or spend time at an author's evening. There are plenty of events - to follow them stay on social media:
facebook: @bikersbistrowroclaw
instagram: @bikers_bistro.
Be sure to drop by if you are near the Four Denominations District!
Where can you find us?
st. St. Antoniego 8
50-073 Wrocław
tel. 713 461 534
email: manager@bikersbistro.pl
U Wędzonych
This is a place where meat plays the first violin. But so good, native of America!
Here you will find authentic burgers, wings, pastrami, beef drumsticks, pulled lamb in crispy batter or grilled ribs. Prepared without haste, surrounded by smoke, accompanied by original sauces and fries. Every carnivore simply has to come here! Just no puffing up to eat real meat.
Where can you find us?
st. Szewska 27
tel. +48 71 799 85 10
Menu: www.uwedzonych.pl
Dwór Polski Restaurant
Or maybe you want to relax in the most atmospheric courtyard in Wrocław? And eat something delicious - traditional, but in a modern form, Polish cuisine? Perhaps you will choose venison or dishes with duck? Or maybe you would like to visit Bistro Kingdom of Potatoes and try this vegetable in one of the following forms: baked potato, puree, grapeshot, potato salad, or maybe pancakes? We invite you to Dwór Polski located in the heart of the city! An interesting fact is that Dinners in the Dark - Dine in the Dark are also organized here. Such events can be found only in eight Polish cities, including ours!
Where can you find us?
Dwór Polski
Rynek 5,
mail: restauracja@dworpolski.wroclaw.pl
phone +48 71 372 48 96
Restaurant on the Wratislavia ship
We also invite you to a unique restaurant located on the Wratislavia ship at the bustling X. Dunikowski Boulevard! The "Z Nurtem" restaurant will delight even the most demanding palates with its dishes: light, modern and surprising. The phenomenal cuisine is complemented by a magical atmosphere and beautiful views overboard - after all, who wouldn't want to spend an evening on the Oder, enjoying delicious cuisine, and admiring Wrocław from a previously unknown perspective?
The ship also organizes events: family meetings, communions, weddings, baptisms and integration events.
The Wratislavia ship is moored at the Wratislavia harbour on Xawery Dunikowski Boulevard.
Where can you find us?
The "Wratislavia" ship, Kardynalska Harbour, P. Włostowica Boulevard
tel. 570 902 903
Details and price list: www.statekrestauracja.pl
Events in Wrocław
Wrocław is a city with a lot going on! Numerous events await you here - concerts, vernissages and many more. It is not without reason that it is said that Wrocław is a city teeming with life. We have prepared for you a few places where a lot is happening!
Czasoprzestrzeń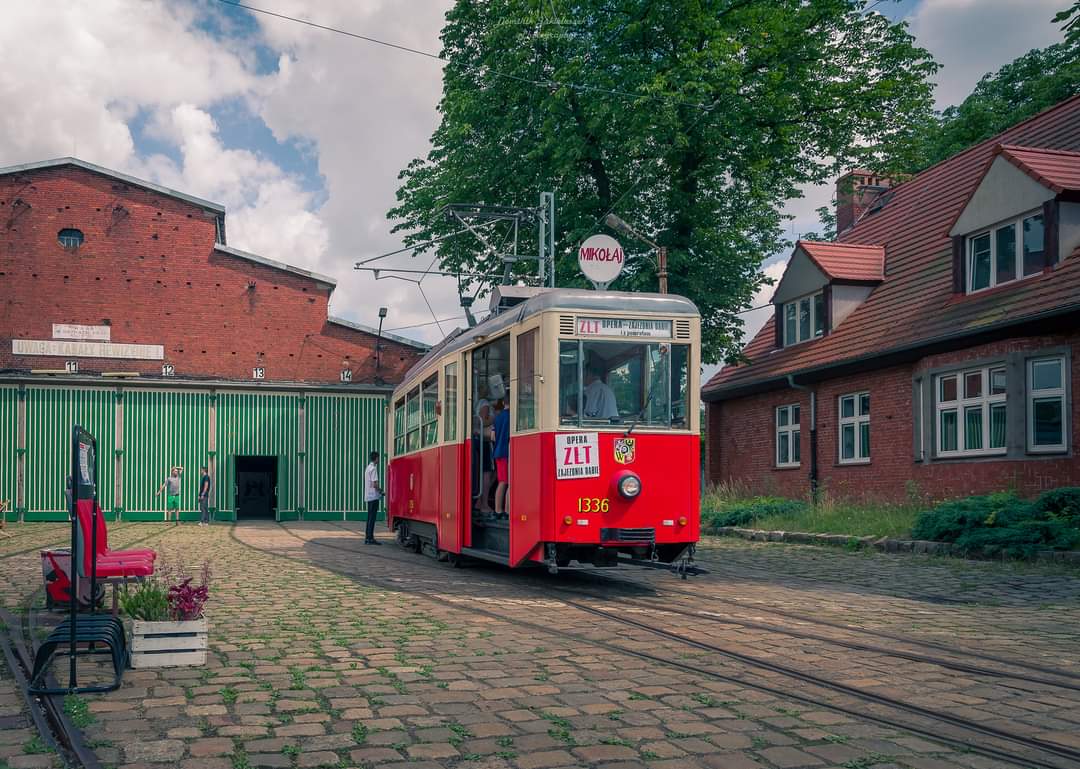 Czasoprzestrzeń, or rather the Center for Academic Culture and Local Initiatives CZASOPRZESTRZEŃ, is a place where a lot of good happens. Virtually every week in Czasoprzestrzeń is filled with cultural events, concerts, charity events, exhibitions and parties. All this is happening in the historical building of the "Dąbie" tram depot and in its outdoor areas. The depot itself is an example of the best-preserved communication architecture in Wrocław. Today, the depot building functions as an exhibition space and a meeting place for various environments. The activities of Czasoprzestrzeń focus on promoting such values as tolerance, healthy lifestyle, pro-ecology and pro-community.
The place is absolutely teeming with life, and the events organized there take place both on 4,000 square meters in the center of the depot, as well as in the area of the Łącznik club, where Wrocław residents mainly meet for concerts, performances, lectures, etc. On almost 2 hectares of outdoor space around the depot, food-truck rallies, flea markets and garage sales.
There are a lot of events in Czasoprzestrzeń, so to stay up to date, we encourage you to follow the fan page: facebook.com/czasoprzestrzenzajezdniadabie and the website www.czasoprzestrzen.org.
Vertigo Jazz Club & Restaurant
Concerts and jam sessions, jazz, blues, swing and more, are spiritual experiences in the only club of this type in Wrocław, in the heart of it, right next to the Market Square. Improvisation theatre, stand-up, balls, revues and burlesques fill the stages. The bustle of the cocktail bar is integrated into their rhythm. Virtuosos of cocktail compositions, from popular and niche alcohols, will create classic and original compositions.
The Vertigo staff will welcome you to the beat of the melody and serve excellent local cuisine. A symphony of specialities awaits you with your friends, a ballad of taste with your other half, or maybe the sound of a meeting with friends? Vertigo has a very rich artistic program - details can be found on Facebook Vertigo - Jazz Club & Restaurant.
Where can you find us?
Vertigo
st. Oławska 13
Scena Pod Regałem in the Literatka Cafe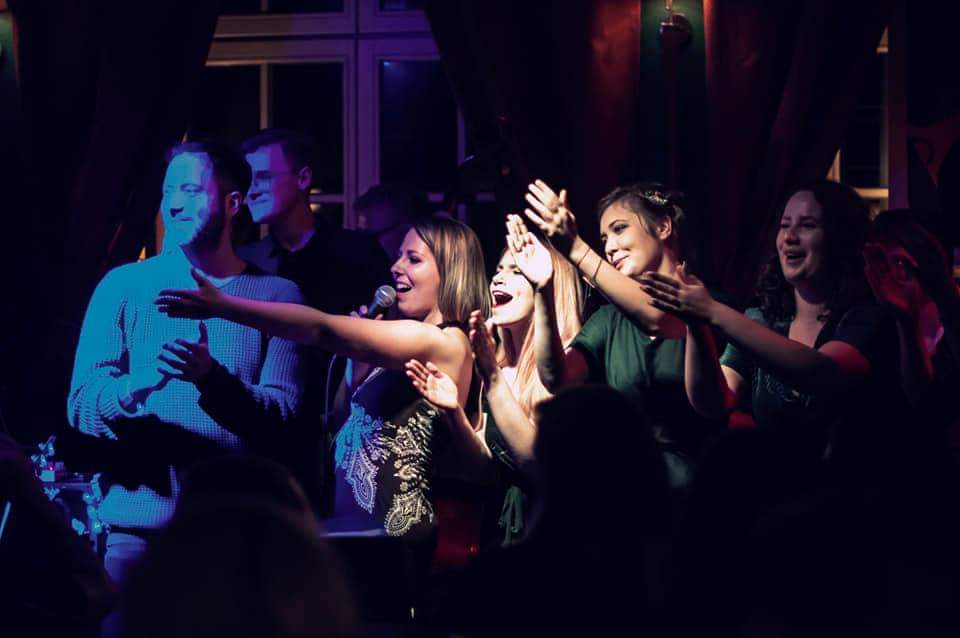 In the heart of Wrocław's Market Square, Scena Pod Regałem in Kawiarnia Literatka, culture and gastronomy at their best mix! Concerts, artistic evenings, music and theatre performances, meetings with authors, art openings, blues and jazz evenings or burlesque revues - these are just some of the events that can be found in Literatka. Weekends are full of various attractions here - we are sure that one of the events will appeal to you!
Where can you find us?
st. Rynek 56/5
Sztuka na Miejscu
Sztuka na Miejscu is a space where art is at your fingertips - its unobtrusive presence allows you to get used to the artistic world in an informal environment.
We encourage you to stay longer, make yourself comfortable on the couch, drink coffee or wine, all in the inspiring surroundings of Art.
A cafe and a cocktail bar have been located in the space. In addition to exhibitions of Wrocław artists, concerts, DJ sets, workshops and many other interesting events are organized here. From Tuesday to Sunday, from 12 to 22, we invite you to Art in Place - a place where you can spend time surrounded by art using the unique offer of the bar.
Where can you find us?
st. Łaciarska 4
Birthdays for children in Wrocław - where to organize?
Are you looking for a place where you can organize an unforgettable birthday party for your children? It is worth betting on good fun and an unforgettable atmosphere! We have prepared for you places that specialize in this type of occasional events. We are sure that it will be a hit for you!
Birthday at JumpWorld Wrocław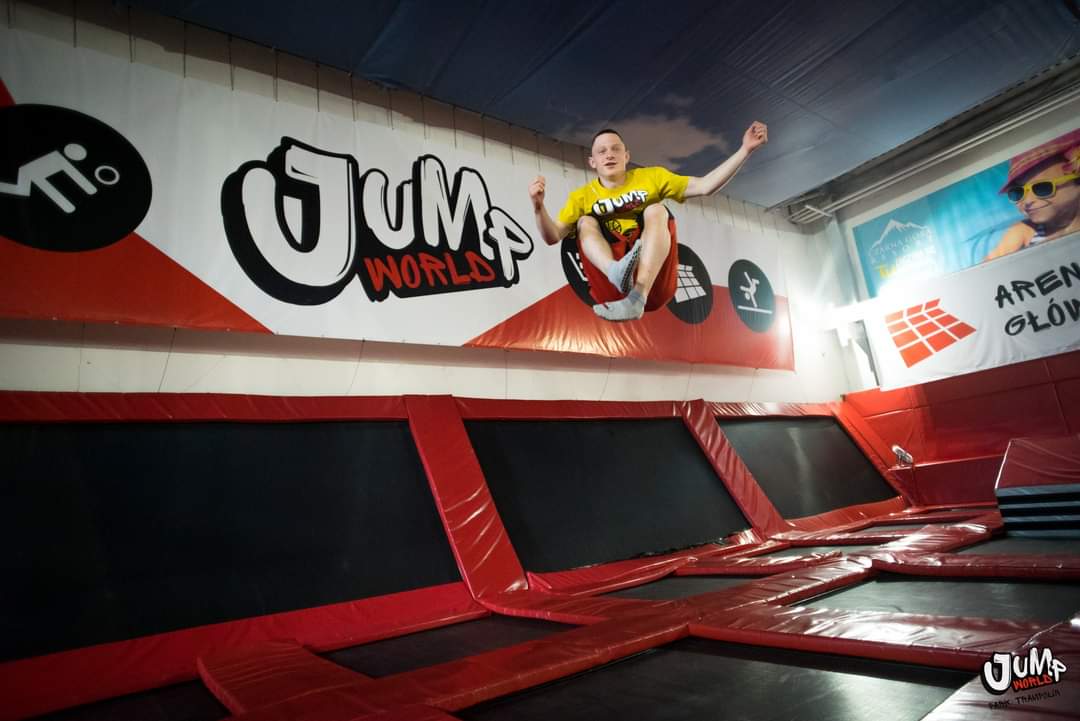 A birthday at JumpWorld is a birthday unlike any other - a few hours of carefree fun and a whole park of trampolines at the disposal of young guests will make your child's birthday party one of those unforgettable adventures that you come back to in your mind. A birthday party at JumpWorld is not only jumping, but also the care of a qualified animator - fun and games adapted to the age and physical fitness of guests, refreshments, and even an illusion show performed by a real magician. Before starting the fun, you only have to warm up and ... you can go crazy. The only thing you need to remember is sports clothes and a good mood!
Where can you find us?
st. Otmuchowska 15
Trips from Wroclaw up to 150 km
If you have already visited all the attractions in Wrocław (and it's not that easy!) and you are wondering where to spend time outside of Wrocław, we have also prepared some suggestions. Find out where to go on a trip near Wrocław!
We encourage you to read our article: 23 ideas for a trip from Wrocław to 150 km
Accommodation in Wrocław - Booking.com how to book?
Are you already determined to visit Wrocław? However, remember to book your accommodation in advance. Despite the fact that Wrocław has prepared a rich accommodation base, it is worth choosing a place that will suit us both in terms of amenities and prices much earlier. The proven and safe Booking.com search engine comes with help, and in our article Booking.com how to book accommodation? we advise you step by step on how to safely make a reservation.
Wrocław for the weekend - why is it worth visiting?
Are you still wondering why it is worth visiting Wrocław? There is no single answer to this question - there are thousands of reasons. Wrocław impresses with its beautiful monuments, city climate, atmosphere, places for romantic walks, charming pubs and restaurants, cultural events and, above all, numerous tourist attractions. Are you ready for an adventure? We invite you to the capital of Lower Silesia - Wrocław. See you!
DOWNLOAD A FREE MAP OF WROCŁAW